Physical Education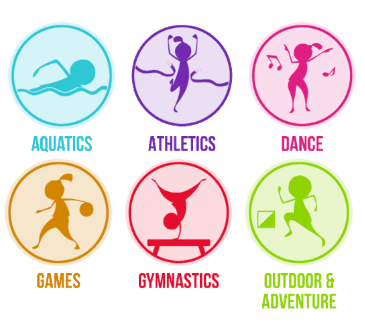 Athletics
Outdoor and Adventure
Dance
Gymnastics
Games
PAWS
At St George's NS we seek to assist the children in our school in achieving their potential by the promotion of physical activity throughout the school. We intend to reinforce the seven key messages of the Primary PE curriculum in our lessons.
Key Messages of the Primary PE Curriculum
The importance of enjoyment and play.
Maximum participation by all children.
The development of skills and understanding.
A balance between competitive and non-competitive activities.
Providing opportunities for achievement of each child.
Providing activities equally suitable for boys and girls.
All pupils in our school are provided with 60 minutes timetabled PE per week, as a minimum. During the 2020/2021 we have been able to timetable each class with extra outdoor time slots each week.
All classes are taught 5 different PE strands each year: Athletics, Dance, Gymnastics, Games, and Outdoor and Adventure.
All Classes are taught the Land PAWS Water Safety Programme in June each year.
Every child's progress is discussed with parents at Parent-Teacher meetings and feedback is included in the annual school report.
Our school PE programme allocates a balanced amount of teaching time to each of the different PE strands.
St George's NS ensures that PE activities are planned so that they are accessible by all pupils.
Teachers use the PSSI lesson plans and the 'Move Well, Move Often' resources to guide their delivery of the PE Curriculum.
Priority PE Strand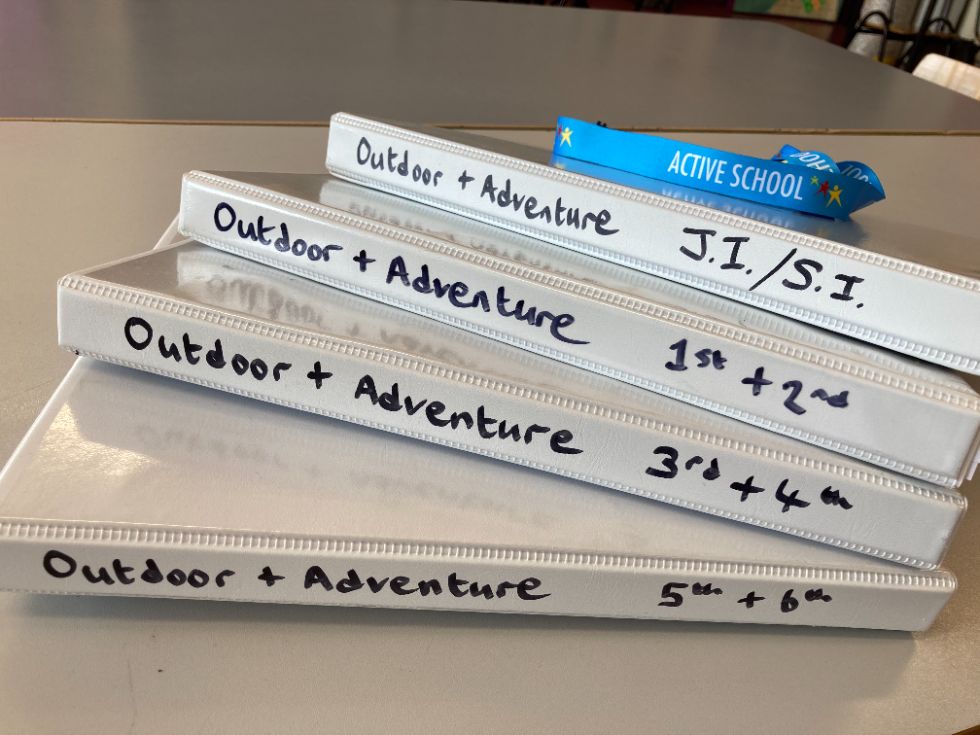 As part of our Active School Flag we are focusing on strengthening the delivery of the Outdoor and Adventure strand in PE.
At the beginning of the process, teachers were surveyed to see which strand we felt we could benefit from focusing on.
We are currently working on how we can improve our whole school approach to the Outdoor and Adventure strand and are coming up with many exciting ideas which we look forward to using in April and May.
Teachers worked together in their curriculum bands to see how we could strengthen the teaching of this strand in PE.
We put extra effort into preparing and collating our resources this year so that in future years we will have folders ready to go with all the lesson plans and equipment needed to teach this strand in PE.
PAWS - Water Safety
At St George's NS, we teach the PAWS Water Safety Programme to all class levels each year during the month of June.
We are very lucky in Balbriggan to be near the sea. This also means it is extra important for us to understand the importance of water safety.
PAWS (Primary Aquatics Water Safety) outlines life-saving guidelines for children of every age and is available digitally to every school in the country. It teaches children how to be safe around water in homes, farms, pools, beaches and on our waterways.
For more information visit https://watersafety.ie/primary-school/
CPD in PE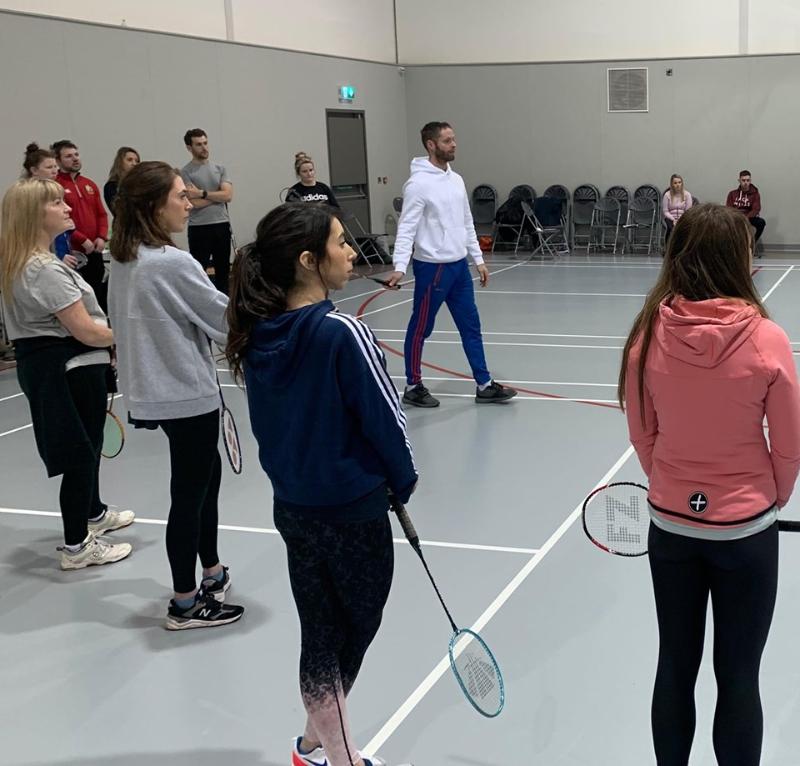 Shuttle Time Badminton Course
Shuttle Time Badminton Course
IPPEA Conference 2021
IPPEA Conference 2021
IPPEA Conference 2021
Orienteering Workshop
Orienteering Workshop
IPPEA Conference 2021
IPPEA Conference 2021
Staff in St George's NS are always keen to enhance their professional development in PE.
Ms Needham attended the Irish Primary PE Association annual conference in March. The 2021 conference focused on outdoor learning and orienteering, which was particularly helpful for us as we are working together to strengthen the Outdoor and Adventure strand in PE this year. The conference provided lots of useful information and resources which were shared with the whole staff.
In the 2019/2020 school year, Ms Ryan attended the Shuttle Time Badminton workshop on behalf of the school. Not only did she bring back lots of resources and ideas for our games strand in PE, she was also given 30 badminton rackets for the school!
Ms Nairn and Ms Needham also went to Balbriggan Community College to learn all about teaching orienteering to primary school children. They learned lots and received great orienteering resources for our school.
PE Equipment
We are lucky in St George's NS that our PE storage cupboard is full of fun PE equipment. All classes are responsible for making sure equipment is returned neatly after each use.
Active Agents also help ensure that PE storage cupboard is kept neat during the year and help audit our equipment and throw out any old or broken equipment.
Fundamental Movement Skills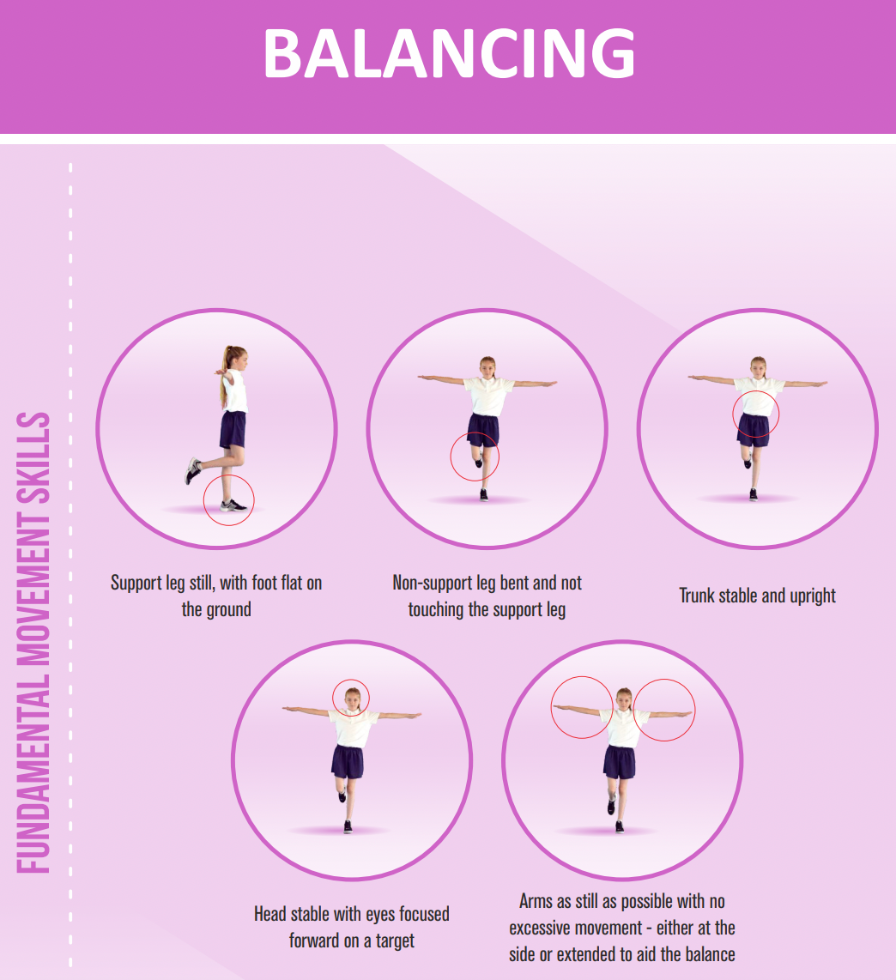 FMS Balancing
FMS Balancing
FMS Running
FMS Skipping
FMS Throwing
As a school, we decided that the 4 Fundamental Movement Skills (FMS) that we would focus on are: throwing, balancing, skipping and running.
We aligned each FMS to a PE strand to ensure a balanced amount of time was given to each one.
Throwing - Games strand
Balancing- Gymnastics strand
Skipping- Dance strand
Running- Athletics & Outdoor and Adventure
Further information about Fundamental Movement Skills and the Move Well Move Often resources used can be found at https://www.scoilnet.ie/pdst/physlit/fms-activities/
Our Run a Day challenge gave us a great opportunity to work on running. During Active School Week teachers included plenty of balancing, skipping and throwing activities when setting their ASW Teacher Challenges.
PE Homework
It is policy at St George's NS to assign Active Homework once a week in all classes.
Active Homework can take many shapes and forms. Pupils may be given specific task to complete by their teacher or they may be given a bank of activities from which to choose their Active Homework each week.
Teachers continued to assign lots of fun Active Homework tasks via Google Classroom during school closures.
St. George's National School, Naul Road, Balbriggan Co. Dublin Phone: 01-8410107